The veterinarians and staff at Wilhite & Frees Equine Hospital are dedicated to providing comprehensive state-of-the-art health care to horses in a caring and compassionate manner.
Hospital Facilities
Wilhite & Frees Equine hospital is fully equipped with a surgical suite, two induction/recovery stalls, a room equipped with stocks for procedures such as endoscopy and laparoscopic surgery, a climate controlled treatment room for hospital appointments, a full pharmacy and laboratory, 7 stalls (2 of which are climate controlled), and all of which have video monitoring, a phantom, a round pen, and a lameness pad. The laboratory is equipped with CBC, chemistry, SAA, and fibrinogen machines as well as microscopes for evaluation of semen, blood smears, and fecal egg counts. We offer computed and digital radiography, digital ultrasounds, 1-meter and 3-meter video-endoscopes, IRAP, platelet rich plasma, stem cell therapy, shockwave therapy, pneumatic and electric dental equipment, as well as Game Ready.
---
Ambulatory Services
Our ambulatory vehicles are fully equipped and visit residences and equine facilities in the greater Kansas City metropolitan area. We are available for scheduled appointments between 8am and 5pm during the week and emergency services 24 hours a day, 7 days a week.
---
Preventative Care
We are committed to preventing disease and common equine health problems by offering nutritional consultation, vaccination and deworming programs, Coggins and health certificates, as well as dental care to our clients.
---
Dentistry
We provide complete dental care for all ages of horses in our practice. Our motorized dental equipment allows us to perform services from basic, "routine", dental floats to advanced performance floats and extractions.
---
Diagnostic capabilities
We offer advanced diagnostics including:
Digital radiography (X-rays): All of our radiographs are taken digitally. This provides for a much clearer image and allows us to e-mail or make a CD of the images. We can forward the images to clients, farriers, and other veterinarians.
Ultrasonography (reproductive and musculoskeletal, abdominal, and thoracic)
Endoscopy
Gastroscopy
---
Consultations
We offer consultation services to area veterinarians in addition to interpretation of radiographic (X-ray) studies.
---
Reproduction
We have an established reproductive practice which includes the following:
Reproductive soundness exams on stallions and mares

Complete ultrasonography

Artificial insemination with fresh, chilled, or frozen semen

Stallion management: collection, evaluation, and transportation of semen
---
Lameness and Purchase Examination
With our knowledge of the various equine disciplines and the demands of the athletic horse, we are uniquely qualified to provide diagnostic lameness and performance evaluations, musculoskeletal ultrasound, and sports medicine including intra-articular (joint) injections. We are also capable of providing a full complement of regenerative medicine (IRAP, PRP, bone marrow and adipose derived stem cells).
Intra-articular (joint) Injections
This type of injection is intended to deposit medications directly into joint spaces, such as in the carpus or hock. Often this is a method utilized during lameness examinations where a local anesthetic such as mepivacaine is injected into the joint to effectively anesthetize or "block" a joint in an effort to localize the source of lameness. Other times these injections are performed as a type of therapy to help treat joint disease. In these instances, medications such as hyaluronic acid, steroids, and antibiotics are injected into the joint in order to reduce inflammation and promote a healthy joint environment.
---
Extracorporeal Shockwave Therapy
This therapy involves the use of high-energy sound waves to promote healing of bone or soft tissue (tendons and ligaments), reduce inflammation, and provide analgesia (pain relief). This modality is used to treat a variety of conditions that can often be sources of lameness in the horse. We would be happy to discuss whether your horse may benefit from this type of therapy. We can perform this therapy both at our hospital and in the field.
---
Therapeutic Laser
Laser therapy uses a range of specific wavelengths depending on location to stimulate a response and is used in combination with traditional therapeutic treatments to accelerate recovery time. Laser Therapy is non-invasive with no known side effects. It is tolerated well, and doesn't require sedation. This tool can be helpful to soft tissue injuries/degeneration, degenerative joint disease, osteoarthritis, sore backs, wound healing.
---
Chiropractic and Acupuncture
Chiropractic and Acupuncture aid in the detection and treatment of those subtle imbalances in your equine athlete and help prevent them from becoming potentially larger and more debilitating issues. Both modalities function best as part of a solid preventative health maintenance program.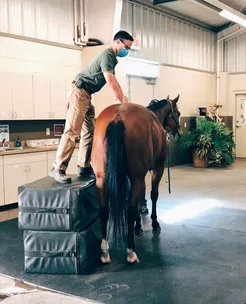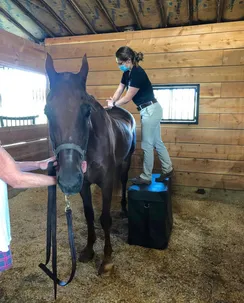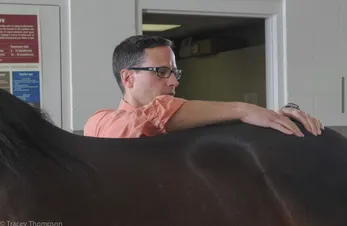 ---
Surgical services
Wilhite & Frees Equine Hospital is equipped to provide both elective and emergency surgeries, including soft tissue surgeries such as colic surgery, laceration repairs, sinus and upper airway surgeries as well as arthroscopy and laparoscopy. The surgeries are performed by one of our two surgeons, Dr. Karl E. Frees and Dr. Ricky Trahan . Our surgical suite includes two induction/recovery stalls, an electric hoist, hydraulic table, gas anesthesia with positive pressure ventilation, as well as blood pressure and ECG monitoring.
---
Rehabilitation
We offer comprehensive care for your equine athlete from maintenance of the athlete to diagnosis of injuries to rehabilitation and return to performance. Some of the therapies available at our facility:
GameReady cold compression therapy

Extracorproeal Shockave Therapy

Electrotherapy

Therapeutic Ultrasound

Core exercises

Equiband by Equicore

Therapeutic Laser
---
Payments
Wilhite and Frees Equine Hospital accepts cash, check, Visa, MasterCard, Discovery, American Express, and Care Credit. Collecting payment at the time services are rendered helps us keep our costs down for all our patients.
If your horse requires hospitalization or surgery, feel free to request an estimate.